Subscribing to a file means that you receive email notification of any changes to that file.
To subscribe to a single file
Click on the Downloads tab to bring up the list of files
Browse for the file that you wish to subscribe to
Click on Save in the file details box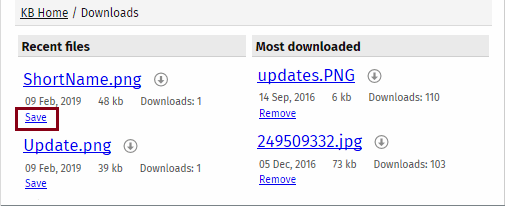 The Save option changes to Remove, and from now until you unsubscribe you will receive notification whenever this file is changed.
To subscribe to all files in a category
Click on My account, which is in the top right-hand corner of the knowledgebase screen
Click on the Subscriptions tab
Find a File Categories Subscription section and click Manage
Click on Add New
Select a category you wish to subscribe to from the list. Note, there is also an option to select all categories, if you wish
Click OK to save your subscription.
You can see which files you have subscribed to in the Subscriptions tab under My Account.
----------------------------------------------------------------------
This functionality works in version 3.5 and above