If you have purchased the export plugin, then you can set your knowledgebase up so that users can export a whole category of articles as a PDF document, or print it, from the Public Area.
To allow public export of articles
Purchase the export plugin and install it
On the Settings menu choose the Plugins tab
Check allow category exporting.
To generate a PDF file or print a category from the Public Area
Once allow category exporting is set, users will find an Options button on their screen when they view a category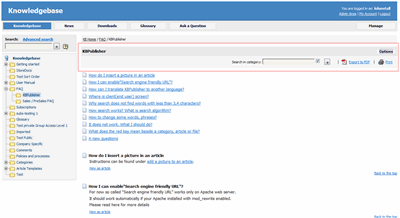 Click on the Options button
This opens a new options panel which allows a user to:

Search for items specifically within the category they are looking at
Create a PDF document
Create a printable html page. This contains basic text without all the headings and left menu and right information block.

The information covers all articles in the category. The user can then print or save this as required.
----------------------------------------------------------------------
This functionality works in version 4.0 and above