* Provide immediate, 24/7 support
* Eliminate repeated emails and telephone support
* Manage project documents and other content
* Create online help systems quickly and easily
* Manage your company's knowledge base

Knowledge Base Made Simple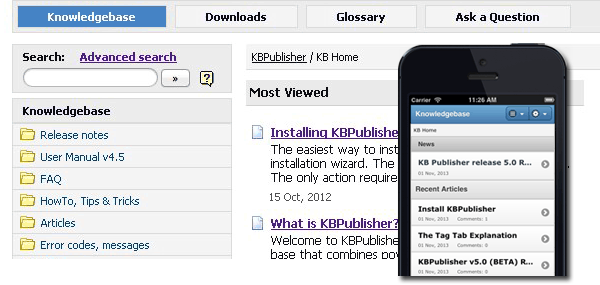 What is KBPublisher?
KBPublisher is Knowledge Management Software which allows you to share information with your customers, employees or partners. It reduces the need for customer support, improves staff productivity and eliminates time wasted searching for information.
Powerful Knowledge Management Software
Users can access the knowledge base locally, or anywhere there is an internet connection. Powerful, role-based access helps you target, and deliver, content to specific groups of readers.
Learn More
---
How KBPublisher Can Help You
KBPublisher can be almost anything you want it to be
Use it to share knowledge with others. Publish and manage articles, white papers, user manuals, business processes, FAQs, online help, APIs or any other type of information.
Attach it to your company's web site or use it standalone to:
- Create a user manual, technical reference document
- Publish policies and procedures
- Manage project documents and other content
- Provide technical and training materials
KBPublisher as self support tool
See video here